Personalized Eclectic Gold-Filled Charm Necklace
$45 - $200
Grey pearl, quartz and lolite charms gather on a long gold-filled beaded chain. The necklace is further customizable with the addition of large round molten coins in bronze, a slim gold-filled tag or a round pavé diamond charm.
Grey pearl, clear quartz and soldered lolite charms are suspended from a 30" gold-filled beaded chain
Customize the collection with the addition of other personalized charms; choose from personalized large round bronze molten coin, personalized slim gold-filled tag or round pavé diamond charm
Large bronze molten coin accommodates 1-letter initial, 3-letter initials, 3-letter traditional monogram or text up to 7 characters max. (including spaces; first character is uppercase, the rest are lowercase)
Slim rectangular gold-filled tag accommodates up to 4 characters (including spaces)
Text set in serif font as shown
Each letter is individually hand stamped for one-of-a-kind character
Optional round charm is set with 32 pavé diamonds, adding an element of luxury to the collection
Beautifully presented and ready for gift giving
Personalized Eclectic Gold-Filled Charm Necklace
Chain: 30"L
Pearl Charm: approx. 6mm x 7mm
Clear Quartz Charm: approx. 4mm diam.
Soldered Lolite Charm: approx. 6mm diam.
Molten Coin: 19mm x 25mm
Tag: approx. 6mm x 32mm
Pavé Charm: approx. 6mm diam.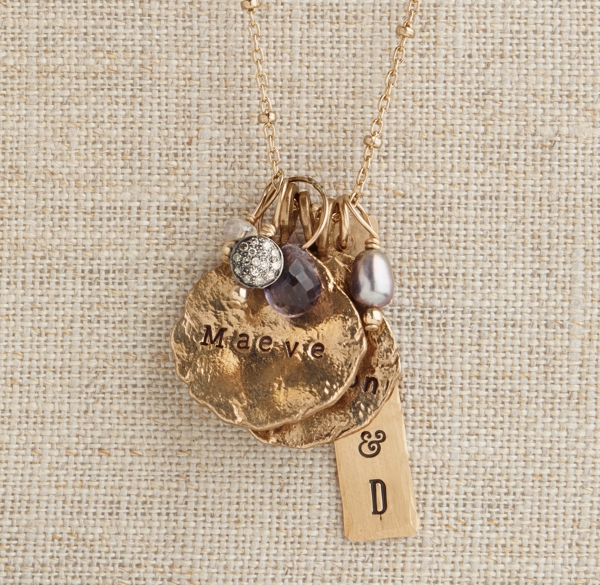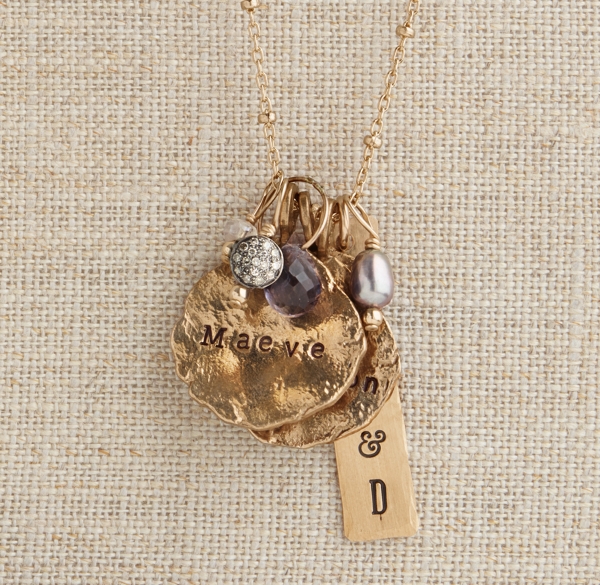 Customize An Heirloom Necklace
Choose and personalize the charms, then select a chain to create a one-of-a-kind heirloom necklace.